Transition Industries
Dave's Transition Trailers
Haul Twice the Load...
For Half the Price!
Since petroleum production has peaked globally, and petrocollapse (the end of economic growth based on cheap and abundant fossil energy, and thus Western Civilization's growth dependent debt-based usury financial system) is hot on its tail, automotive dependent consumer culture has become an instant anachronism.
And since the die-hard adherents to our dominant death culture will most likely go down kicking, screaming and denying to the bitter end, the rest of us must begin to act as rationally as humans are actually capable of (past performance notwithstanding). This begins with re-ordering our relationships and priorities under a life-honoring paradigm, realizing that quality of life and standard of living are NOT the same thing, and that relocalization maximizes the former as the latter looses its artificial and superficial draw.
So, as our dinosaur powered dinosaur transportation system sputters, dies, and rusts back to the Earth, how are we social creatures going to meet some of our basic needs, such as getting our food from the nearest farmers market, taking solar oven baked fresh bread and chicken to the neighborhood pot-luck, and getting tools and supplies to various sustainable means of right-livelihood as our cities return to being human centered and friendly instead of optimized for our semi-guided, polluting death cages of disconnection? (Are my biases clear yet?)
Well, here's one option that can also serve as a means of right livelihood at the neighborhood level--bicycle trailers. The first product line from Transition Industries currently offers two basic models that come with various options, and either can be customized to meet most any need (a small farm trailer that can haul four bales of hay, for instance, or with a child seat to take the young one on grocery trips). Let your imagination run wild--it's good practice for the necessary re-wilding of the spirit as we shake off the yokes of domination, exploitation, and manufactured fear. We also offer services to assist you in starting your own neighborhood enterprise.
Ok, enough editorializing. Here's the models and rough prices. Let us know what you'd like. And a great big thanks to Aaron Wieler of Community Bike Cart Designs for inspiration and hitch design. One less car! Make it two!
---
Here's an initial dickering point on price. I get the tires and wheels used, the tubes new, grease the bearings, and fill 'em up. My cost: $25. If you've got a matching set, or want to take charge of rustling up the wheels, deduct $25 from the base price. You just have to let me know wheel size and hub spacing. 700 mm tires are not supported, as they will "potato chip" at rated capacity while sideways on inclines. If you want anything additional like thorn resistant tubes, let me know and I'll just pass the additional cost on in the final price. I can't see the sense in charging "additional" for that, since I'm already there getting some anyway, right? Or use this as a model and build your own. Plans available. This is "open source" living.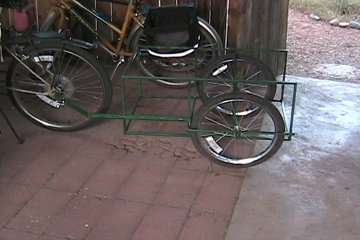 Basic square frame, lower center of gravity, 20" wheels, 200 lb. plus capacity cargo hauler. Bed area 22" x 36". Pick your favorite color. Base Price: $175.00 USD.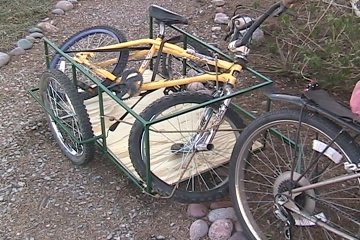 Option 1: Add a bed, stained or clear. Base price + $25.00 USD. Total = $200.00 USD. The bike in the trailer (on its maiden hauling journey) was donated by BICAS to turn into a Ghost Bike memorial for 15 year old Kevin Robinson, who was killed while riding his bicycle in the Fall of 2008 here in Tucson.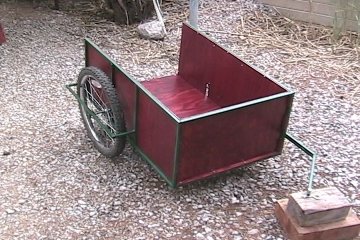 Option 2: Sides with rope hooks inside. Option 1 + $50.00 USD. Total = $250.00 USD. Our default color scheme is Sedona Red on the wood and green on the frame and hitch.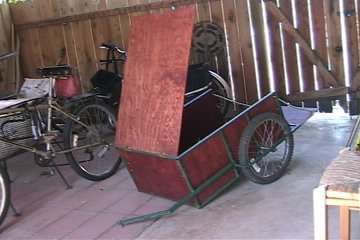 Option 3: Complete locking enclosure, hinged tailgate and top. Option 1 and 2 + $65.00 USD. Total = $315.00 USD. This is the setup I use to haul my MIG welder, tools, and materials to job sites.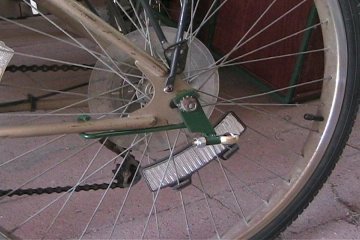 All models come with a ball joint style trailer hitch with chainstay bracket.
---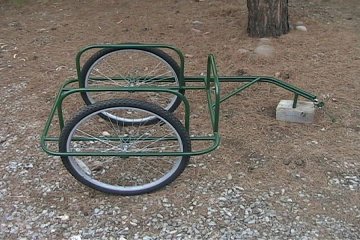 Basic round frame, platform style, 24" wheels, 200 lb. capacity for shopping or touring. Bed area is 21" x 32". Pick your favorite color. Base Price: $125.00 USD.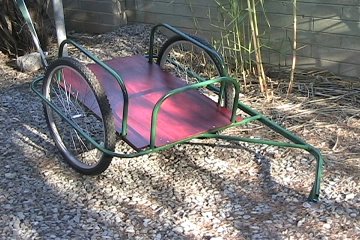 Option 1: Add a bed, stained or clear varnish. Base price + $25.00 USD. Total = $150.00 USD.
The main use for the platform trailer around here will be groceries and rummage sales. A smaller tub and ice chest will also fit on here sideways.
---
To order a trailer that will meet your needs, or arrange a presentation or workshop on how natural systems principles can ground and provide a pragmatic and viable framework for transitioning to sustainability for your family, group, organization, or community please contact nature@attractionretreat.org or give Dave or Allison, co-founders of Attraction Retreat and Natural Systems Solutions, a call at (520) 887-2502.